---
Easily Transform Your Power Drill Into An Effective Sheet Metal Cutter With This Metal Nibbler Drill Attachment.
Excellent Cutting Effect
Double Cutting Head And 360°Straight And Circle Cutting, you can also effortlessly cut beautifully. Smooth shearing effect without burrs.
Wide Usage And Application
The Versatile Sheet Metal Nibbler, Perfect For Car And House Maintenance Like Metal Roof Cutting, HVAC Vent Pipe And Other Metal Sheets.
Easily Attaches To Any Drill
This Double Headed Sheet Metal Nibbler Fits Effortlessly Into Any Standard Drill And Creates A Precision, Burr Edge, Making Cutting Jobs Easier, Faster And Safer.
Safe And Durable
No contact with the saw blade or blades, and no injuries to hands. Equipped with a robust metal gear head designed for long life and durability.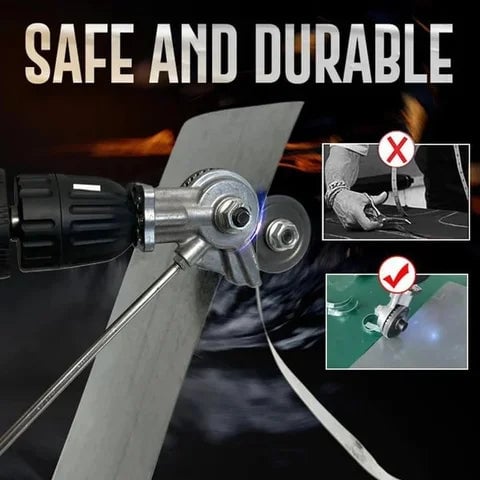 Cutting Capacity
Iron plate, Stainless steel plate ≤ 1.2mm
Copper, Aluminum alloy plate ≤ 1.8mm
Plastic plywood ≤ 2mm
Included
 1 X Metal Nibbler Drill Attachment & Tool Accessories
If your grip and strength aren't what they used to be, then I recommend getting this product for cutting sheet metal. It attaches to your DeWalt drill with little to no effort. Worth the price!
I used this without guidance from my husband-easy to attach to drill and it cut a threshold piece with perfection. I love this thing!! Worth every penny!
Must have tool attachment for pros. Easily attaches to a standard electric drill and can cut sheet metal up to 1 mm thick. Perfect for fitting ductwork.
The best add-on tool for cutting metal in the business. I use it often as I'm always cutting metal roofing. There is no other tool for the price.
I can't believe I waited this long to buy these! Cuts through sheet metal like butter! Seriously, I have always cut sheet metal with aviation snips and tin snips. These make the toughest cuts easy, such as tight corners and length-wise metal roofing. Seems well-built and setup takes 10 seconds. Great product!