---
Own that Slim Waist in an Easy Way!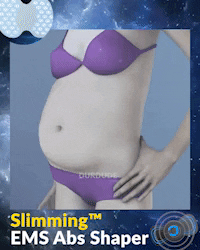 Slimming‰ã¢ EMS Abs Shaper, a practical self-adhesive massager, emits a low-frequency pulse that stimulates muscle contraction and henceåÊeffectively exercises muscles and targets the flabby fat tissue.

Promoting blood and lymph circulation, the powerful Electrical Muscle Stimulation (EMS)åÊreactivates cell renewal and enhances skin elasticity effectively.

Natural Tummy-Taming
Stimulates muscle contraction and hence effectively exercises muscles and targets the flabby fat tissue.
Relieve Swelling
Stimulates lymphatic drainage to get swelling relief. Restores ideal waistline.
Promotes Blood Circulation
Reactivates cell renewal and restores youthful skin elasticity.
Improve Collagen Growth
Facilitates the growth of the connective tissues beneath the tummy and the collagen under the skin.
100% Safe to All Skin Types
Made of top-quality, hypo-allergic silicone material that is 100% safe to skin.
Self-Adhesive Design
compact, wireless and seamless to use, and invisible under all clothing.
6 Modes & 15 Gear Positions
Including shiatsu, kneading, tapping, and massage to meet different needs.
For All Body Parts
Besides shaping massage for abs, it is also perfect to be used on breasts, neck, back, hip, legs and any other parts with muscle tension.

SPECIFICATIONS:
It is recommended to use 15 minutes a day for fast and visible results.

Material:

åÊSilicone

Usage mode:

åÊA~F (6 modes)

Frequency:

åÊ1~100Hz

Output current:

åÊup to 9.8mA

Power:

åÊBattery
INSTRUCTIONS:

Attach the instrument to the area where you need to massage.

Press the ‰ÛÏON/INC‰۝ button to start.

Press the PROGRAM button to select the desired mode.

Continue to press ‰ÛÏON/INC‰۝ or ‰ÛÏOFF/DEL‰۝ to adjust the intensity.
PACKAGE INCLUDES:

1pc x Slimming䋢 EMS Abs Shaper