---
PRODUCT DESCRIPTION
Once the stains and yellow appear on the shoes, it will destroy the beauty and elegance.
Removes dirt and yellow from shoes, and can effectively keep your white sneakers shiny white!!
Feature:

👟

Restoring White by Chemical Reaction

 

- Unlike other products that whitening shoes by covering, it remove yellow dirt by chemical reaction, restoring its true color essentially.

👟

Safe for the Upper of Shoe

 - Composed with gentle formula, it has no damage to the material and surface of the shoes, which is safe and harmless.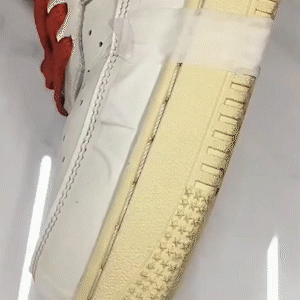 👟

Widely Use

 

- It can be used to remove yellow from a variety of white shoes, such as shell-toe shoes, canvas shoes, sports shoes, air force shoes and so on.

How to Use:
Clean generally
Apply the gel

Let stand for 1-3hours
Wipe off and clean
Specification:
Category:

 

cleaning agent
Color:

 

white


Net content:

 

90g

Package includes:
1×Shoes Whitening Cleansing Gel
I love this stuff! I sprayed it directly on my shoes and started scrubbing right away. I've got Zoom Pegasus 32 running shoes from Nike, and the shoes are about 9 months old. They are mostly canvas material, and this stuff cleaned them right up. So, spray on the shoe, scrub for a couple of minutes, then let them dry overnight. I paired this with the TriNove Natural Shoe Deodorizer and viola....no stink, no scuff. They look new again.
This product works great on the soles and the leather and rubber of the shoes. It does clean them up by about 80%.It doesn't work like the pics show, but it does drastically improve the appearance and cleanliness of older worn shoes. I would highly recommend this product, but you will have to put some elbow grease into it for older more worn shoes.
What in the black magic trickery is this?? I have tried every Pinterest cleaning hack/idea to clean my Converse. This shoe cleaner took me less than 30 min to revive both my shoes. A scrub here, scrub there, and done. Now, they are not perfect-outta-the-box clean, but they are like 2-months-after-wear clean. Highly recommend. I added new shoelaces to my shoes and they look amazing.
I was a bit skeptical that this would work. It made a huge difference in the appearance of my shoes. It took them from a dirty gray to a off-white. Had I been using this all along with my shoes, I truly believe it would have made them even cleaner looking. I will definitely repurchase again when I run out. I don't think that will happen anytime soon, as a little product goes a long way.
This product is amazing. I've only used it on the soles of sneakers right now but it's turned them back into like new shoes again. I recommended.