---
Description:-
Reduce your kitchen prep time with this multifunctional electric food processor set!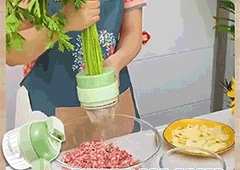 This electric food processor set offers 2 different sharp blades that perform an   automatic quick spin   with just one easy push.  Allowing you to effortlessly  slice or chop  ingredients to make them crispy or as thick or thin as you like, depending on how long you process them. Suitable for garlic, chilies, carrots, onions, peppers, cowpeas, asparagus, sweet potatoes, meats, etc. It also has a  handy peeler that removes the skin from vegetables or fruits with a single blow without removing  too much pulp. The multifunctional set even includes a bristle brush that you can attach to the device for  power cleaning. fast and deep.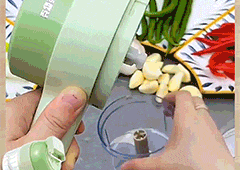 The electric device features a   comfortable handheld design   to provide better grip and control.  It comes with a convenient feeding port that allows you to add food directly at any time while   eliminating   repeated opening and rotating lid.  Additionally, the food processor has a fully washable body  and even has a 1-key cleaning function. Simply put detergent and a little water into the open port, press the start button to stir and wash away any residue, then rinse and you're good to go. This electrical device is fully  rechargeable      And it can be recharged at any time using the included cable or any type-c charging interface.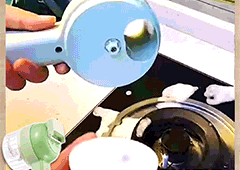 Quickly chop ingredients or prepare meat using just this multifunctional electric food processor set! 
FEATURES:
4 in 1 Electric Food Processor


A set of smart electric kitchen gadgets that comes with 2 different sharp blades for 

  

slicing and chopping

   food.  It has an easy-press button that allows the blade to spin quickly like a lawnmower to cut food into fine, crisp pieces or as thick or thin as you like.  This set also provides a handy fruit and vegetable peeler that 

 removes the outer shell

 

  with one stroke without removing too much meat.  It can also be used as an  

 electric cleaning device by

   simply connecting the included bristle brush and operating it. Ideal for scrubbing pots, pans, saucepans and other kitchen utensils.  Saving you a lot of time and the chore of slicing, chopping, peeling and even cleaning up afterwards.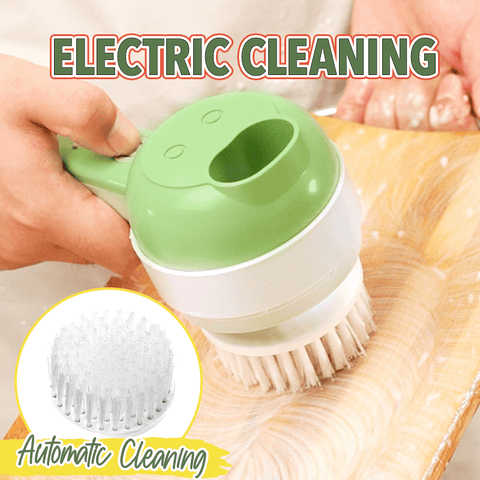 Open Feed Port


The Multi-Function Food Processor is equipped with a 

 

 convenient fill port

   for adding ingredients directly into the slicer/chopper.  Allowing you 

 to continuously prepare your food

   and put in other pieces while  

 eliminating the tedious steps

   of repeatedly opening and turning the lid.  Its fast blade rotation mechanism prevents slamming or jamming, which is great even for hard or long edibles.  Don't worry as it has a  

 large 20ml capacity

 

 and even with the open design, it won't spill or splash when cutting or chopping.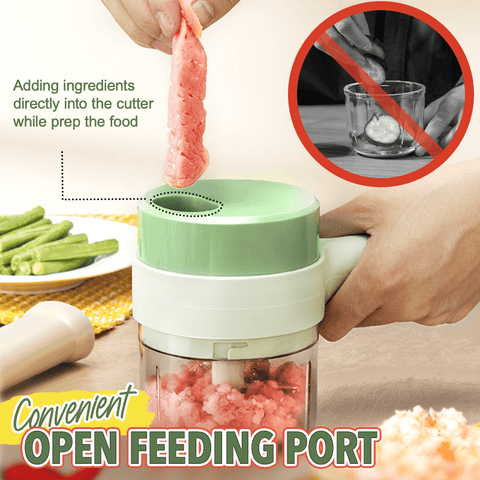 Ergonomic Design
This excellent electrical device offers a   humanized hand 

  feature that provides maximum grip and control.  It prevents slipping and ensures that your hands won't get tired even after long and continuous use.  It even has a mini spatula that allows you to gently scoop 

 

 chopped or sliced ​​food effortlessly

 

  from the container.  Plus, the food processor tool provides long-lasting performance and is fully 

  

rechargeable

  

. 

You can fully charge it anytime in about an hour using the included cable or any  

 

 type-c charging interface.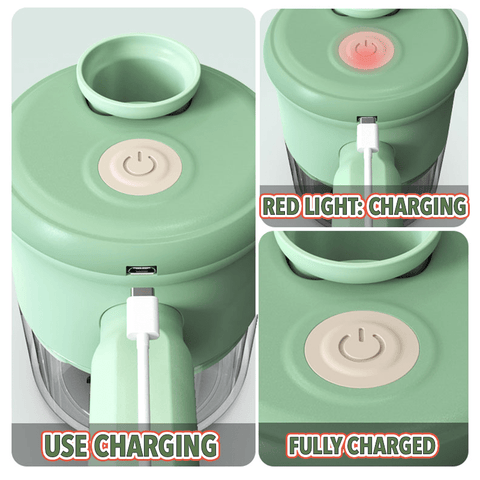 Wide Application


It is highly applicable for 

  

grinding or mincing

   garlic, chilies, carrots, onions, bell peppers, cowpeas, asparagus, sweet potatoes, meats and more possibilities.  You can even use it to make your baby's food and make it 

 

 denser and finer

  . 

In addition, the electric processor is

  

 light and compact

   , perfect for travel.  Suitable for outdoor family dinners, camping, hotels, apartments, vacations and other outdoor activities.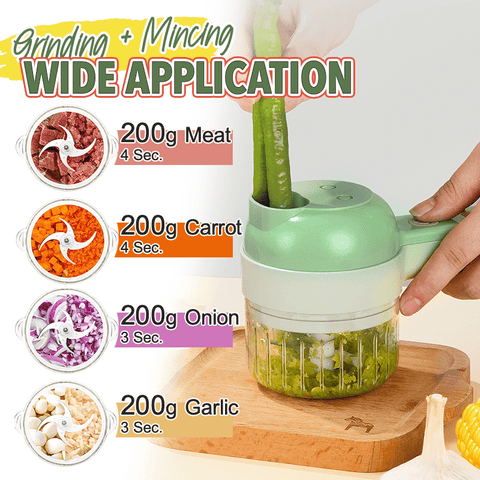 One key cleaning

The food processor is detachable and designed with a   fully washable body   so you can clean it without affecting its performance.  An automatic clean even works by simply adding detergent to the inlet and clicking start to remove and wash away residue.  After that, just rinse it under running water and you're good to go.  No more hard scrubbing needed!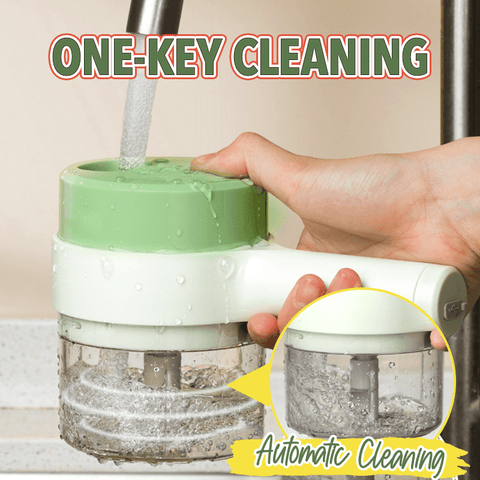 Premium Quality


Made of high quality food grade ABS+PP+PC materials with stainless steel blade and serrated edge of peeler.  It can 

  

smoothly cut

 

  most vegetables and fruits and be used daily for years without wearing out.  In addition, the food processor is  

odorless

   

and does not generate toxic leachate to ensure the safety and health of the user.

 
SPECS:
Material: ABS, polypropylene, polycarbonate, stainless steel.

Size: Please refer to the picture below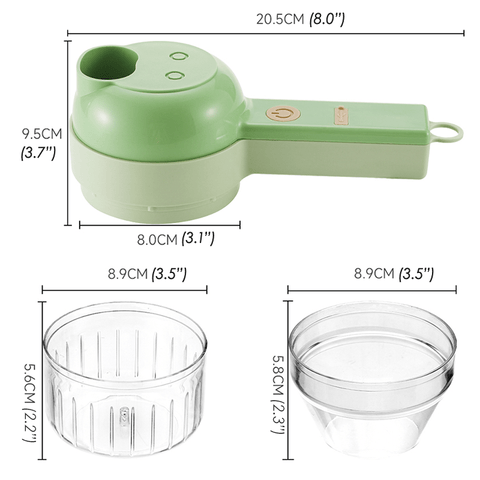 PACKAGE INCLUDED
1 * Multifunction Cordless Electric Grinder + 1 * Kitchen + 1 * Slicing + 1 * Brush
Obs:
Please allow slight dimension deviation due to manual measurement.

Due to different monitors and lighting effects, the actual color of the item might be slightly different from the color displayed on the pictures.
I use the chopper to chop nuts. I absolutely love it! It's even easier to use than the last Proctor Silex chopper I had for many years. I highly recommend this product!
This mini food processor has been super useful and efficient to create sauces and spreads in my kitchen. It's quite powerful for such a tiny appliance. It's easy to clean and assemble. I just wish it had more speed options, but overall it was an excellent purchase.
This little guy is a beast! 1-2 seconds and your work is done! Great performance, for not a lot of money. Sensible buy, if you are limited on space. I even dropped it, twice, on the tile, and still works beautifully.
I have some temporary health issues and my doctors stated I needed to eat pureed foods for a while. This appliance is just right. Does a great job and the price was very economical.
This little machine is awesome! Compact but powerful, it works perfectly for pureeing chopped cat food for my 16-year-old calico. Quieter than I expected, fast, and easy to clean.