---
Let your mind wander to peaceful grasslands and flourishing forests with these puzzle sets! Every single piece of these wooden puzzles is a miniature distinct elaborate depiction of nature, but when finished, they collectively create a breathtakingly beautiful Majestic Creature, a work of art that you can hang in your living room.
These certainly aren't your ordinary, run-of-the-mill, cookie-cutter jigsaw puzzles. With each puzzle piece being an artistic masterpiece in and of itself, our mandala art puzzles go further to form complete scenarios. Let your imaginative mind soar as you organize and arrange uniquely shaped puzzle pieces to construct your very own pieced-together creation.
These intricately detailed pieces have been laser-cut to ensure smooth edges that fit perfectly together without any burnt laser marks. The gorgeous prints and bright colors will not fade even after repeated handling of the pieces, ensuring that your puzzle set will look pristine for a long time.
Our puzzles are fun for the whole family! Solving a puzzle together is a great bonding experience, so why not introduce your kids to the beautiful world of jigsaw puzzles? This is an excellent choice for family game nights.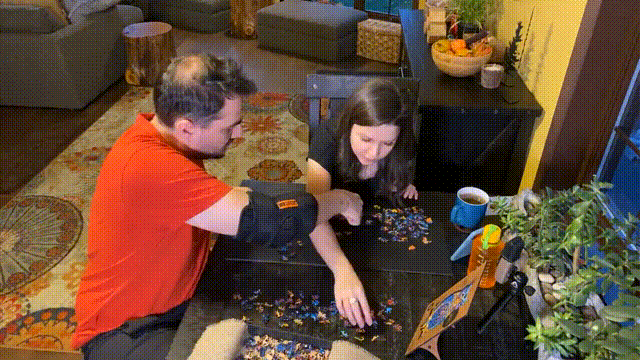 FEATURED AS A FAVORITE PRODUCT IN 
Featuring elaborate depictions of majestic creatures, both fictional and non-fictional, our mandala puzzles put boredom, fatigue, and tension to rest. Designed to support mental well-being and relaxation, these puzzles stimulate a cognitive response, boost concentration and help sharpen fine motor skills. Still, they also engage the imagination to unleash worlds of profound wonderment.
| | |
| --- | --- |
| Material: | |
| Size S: | |
| Size M: | |
| Size L:  | |
Beautifully made, bright colors. Sometimes I had to walk away but came back in minutes. Love the way it goes together. The presentation box is 👍🏻
Love the vibrant colors and the detail. The quality is superb. The size of the puzzle is much smaller than imagined for some reason. It's heirloom quality though so I think that makes up for it.
I loved assembling the Lion puzzle! The animal shaped pieces are a bonus, but when you turn the puzzle to the "wrong" side, you can see the finished puzzle in miniature! I was fascinated on so many levels! I got the wolf and the owl too - I could be addicted. They frame up beautifully!
We received this puzzle yesterday and have thoroughly enjoyed it. I have four kids, between the ages of eight and thirteen. Two of them and I love doing puzzles. I've had my eye on this for some time but have been hesitant in getting it, because it's expensive. I'm glad we got it.
This is an amazing puzzle. I love the packaging and individual touches. Puzzle is vibrant in color and catches your attention right away. I have only had this puzzle a few hours and have already ordered another one. Can't wait to complete them all.