---
Say goodbye to traditional dishwashing sponges, and say goodbye to millions of harmful bacteria and molds!
The upgraded silicone dishwashing brush can give you a relaxing and healthy way of cleaning.
The high-quality silicone towel that integrates the functions of
a cleaning brush and a heat insulation pad can effectively remove oil stains, easy to clean, and restore dryness. 
Suitable for all people who are troubled by oil!
MAIN FEATURES
[5-Second Greasy Killer]
You can get a magical tool to
make the greasy dirt on the tableware disappear within five seconds!
After cleaning the oil pan in the pool, your hands can still stay away from the oil and keep clean.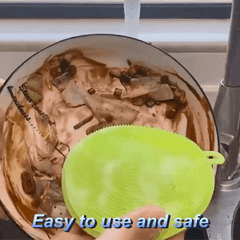 [Multi-scene Application]
Not only a simple dishwashing brush but
you are also equivalent to having a coaster, a dish mat, heat-insulating gloves, a kitchen cleaning brush, a shoe brush, a hair removal brush, etc.
at the same time!
[High-quality Materials]
Made of environmentally friendly organic silicon,
BPA-free and approved by the FDA, and adopts LFGB standards.
Thick and soft, making them easy to reach the corners of the cup.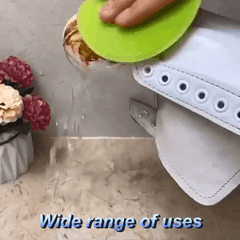 [Dishwasher Safe] 
No complicated cleaning process is required,
you can clean it directly with clean water or put it in the dishwasher.
It can withstand a temperature range of is -76℉ to 500℉ (-60℃ to 230℃), which is completely suitable for dishwasher cleaning.
[Always Keep Clean]
The silicone dishwashing brush
does not absorb dirty liquids and can be refreshed after each cleaning.
You only need to hang it in a ventilated place and wait for it to dry naturally to keep it sterile and tasteless.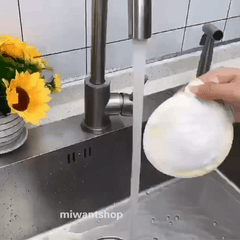 SPECIFICATIONS
| | |
| --- | --- |
| MATERIALS | Silica Gel |
| COLOR | Green/Blue/Pink/Purple/Yellow |
| WEIGHT | 120g |
Works well on dishes but realized I can't slack on my dishes I have to let them sit in water if I've cooked something with oil and then scrub them, it works best that way in my opinion!
These are excellent. I am still on my first one many months later. They're best for scrubbing stuck-on foods. I use these for everything else. I definitely would recommend it.
Love these! We got these as a sponge alternative and were not disappointed! They're so easy to clean. Since they don't absorb anything they don't smell, and I can easily bleach them to kill any nasty bacteria. Highly recommend.
This is my main scrub pad for my kitchen sink and so far it is doing a great job! I haven't had it long enough to make any comment about its longevity of it, but so far, so good! The colors are great and the pads do feel rich and sturdy. I'll let you know if it turns out otherwise!
Love these things and the fact that they come in different colors. Some are used for dishes, they are great for hard-to-get-off bits, and work really well in cast iron. Also, have some assigned to the shower, they make really good body scrubbers and can be washed and reused! Am recommending it to all my friends.